THE DANISH AMBASSADOR AND DIGNITARIES TOURING THE FACILITIES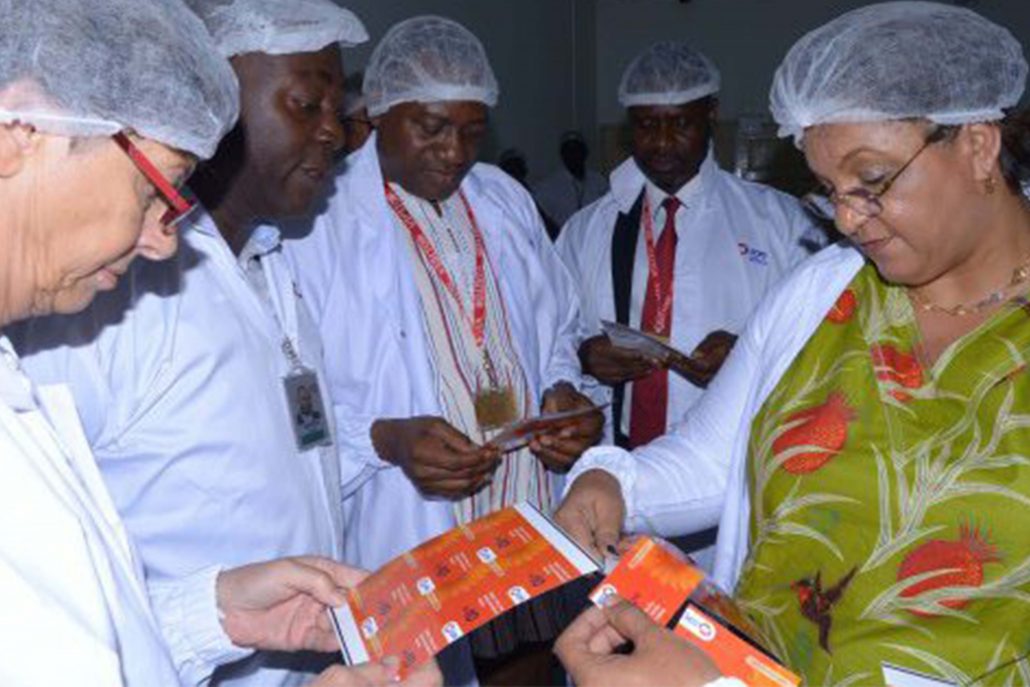 The equipment would enable the company to inch towards meeting the requirements for the certification to produce mastercards and visa cards among others.
Margins Today is unsurpassed in the West African sub-region in the area of the production of intelligent cards operations which are dependent on modern sophisticated machinery.
In his welcome address, Moses Baiden, the Chief Executive Officer (CEO) of the company, paid tributes to the Danish Embassy, the Danish Industrial Fund for Developing Countries and DANIDA for what in his estimation are their immense contribution to the journey the company has undertaken this far.
The company, he recalled, started as a small business in his father's house but has since then expanded to its present status as a leader in the area of intelligent card production and other security stuff.
He announced the extension of a $5 million facility by the Investment Committee of a Danish body towards the expansion of the operations of the company, which he added was recognition of their progress and future potentials.
The facilities the company is enjoying from the Danish channels are all insured by the Danish Export Credit and Access Bank, he said.
ICPS is currently engaged in the production of national identity cards and others which are driven by state-of-the-art equipment.
With its current status and level of sophistication, ICPS is poised to meet all the printing requirements of the National Identification Authority (NIA) so that as Moses Baiden put it "it can meet its mandate of producing identification cards for both Ghanaians and foreigners."
The Danish Ambassador to Ghana, Margaret Thomson, was full of praise for Moses Baiden for the strides he has made so far having heard the genesis of the Margins Group from his own mouth during his welcome address.
She narrated the Danish support story to the Margins Group and her expectation that it would soon meet the international certification for the production of export products.
The occasion was graced by a respectable representation from the Access and CAL Banks, both of which have supported the Margins Group when others dreaded such a feat, according to Moses Baiden.
By A.R. Gomda (of Daily Guide newspaper)
Address
Plot No. 4 CBY Ahiabor,
Okpoi Gonno,
Spintex Road, Accra, Ghana.
GT-091-9182
sales@icpsltd.com
info@icpsltd.com
Work Hours
Monday – Friday
8AM – 5PM
Saturday – Sunday
Closed